Quite often we get asked how involved a van wrap is to produce and why prices vary so much.
For this project we were approached by Wally Mehanna the CEO of Canterbury Bankstown Chamber of Commerce, and we were tasked to come up with a design for the Chambers new mobile office van wrap.
The Chambers amazing initiative is to use the mobile office to attend shopping centres, business hubs / precincts, community events and much more with a focus on serving the local business community through education, sharing information and starting conversations with experts available in specialist fields.
For more information about chamber events and to connect with the Canterbury Bankstown Chamber of Commerce CBCC please contact Wally Mehanna CEO via ceo@cbchamber.org.au or visit www.cbchamber.org.au
The purpose of this article is to break down the job, and explain how involved it is as well as how many people in our team are involved in a van wrap like this.
STEP 1 – The client contacts us, and depending on how big the job is, I would have a one-on-one meeting with the client and get a brief from them as to what they envision for their vehicle signage.
Phil 15 minutes
STEP 2 – Once I have the brief from the client, I discuss with Tiana the designer for this job. Our discussion goes for 45 minutes, outlining the possible layouts to fit the clients brief and other ideas.
Phil 45 minutes – Tiana 45 minutes –Total combined = 90 minutes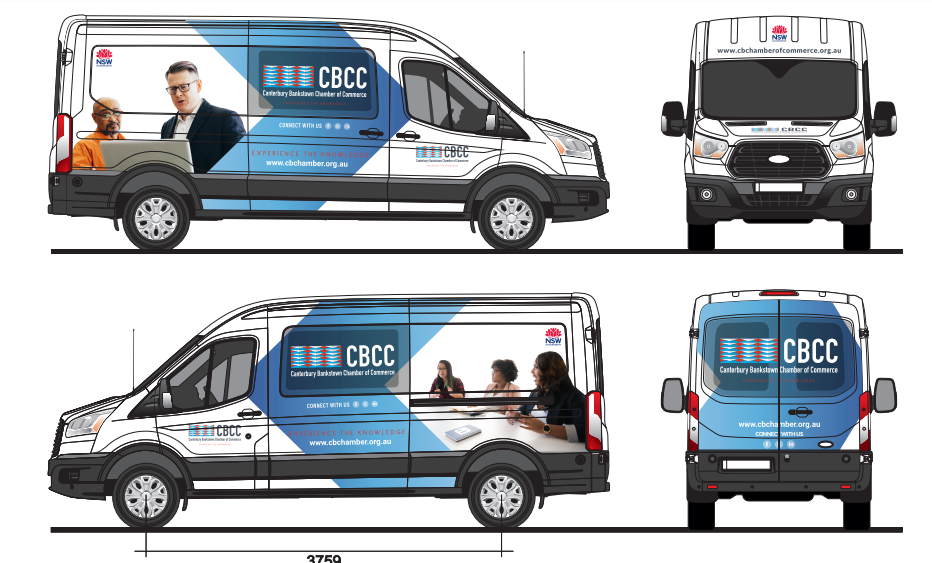 STEP 3 – Tiana works on the mock up, then forwards it to me, we send designs back and forth until we feel we have achieved the clients brief.
Phil 45 minutes – Tiana 450 minutes – Total combined = 495 minutes
STEP 4 – Once the artwork is approved, Tiana sends through the final art files to Emma who is another one of our designers. Emma and I measure up the van and every panel to decide how we're going to divide the artwork to make production easier. We spend 1 hour discussing and measuring.
The reason we need to split and cut the artwork is the van will have many different materials used to bring it to life. The main ones being digital media with an overlaminate applied, computer cut vinyl and one way vision with optically clear laminate. Splitting this into the many required files takes Emma 3.5 hours
Phil 60 minutes – Emma 270 minutes – Total combined = 330 minutes
STEP 5 – Once Emma completes splitting up the files for various printers and cutters, she puts them into production for Toni to get them pre press ready. He discusses with myself for about 20 minutes on which material to print each file on. Toni then spends a total of 1.5 hours setting up and ripping the files, loading the cutters and printers for each element.
Phil 20 minutes – Toni 110 minutes – Total combined = 130 minutes
STEP 6 – Once all elements are printed and cut Toni and John in production spend 4.5 hours weeding the computer cut vinyl, laminating and cutting relevant laminated prints ready for the install process.
Toni 270 minutes – John 270 minutes – Total combined = 540 minutes
STEP 7 – Everything is now ready to go and before anything is applied, the entire van is cleaned and wiped down with IPA ( Isopropyl Alcohol ) to ensure nothing is left on the vehicle
John 180 minutes – Total = 180 minutes
STEP 8 – Once everything is prepared, I then spend about 30 minutes talking to John about how to set the files on to the actual van, which goes on which channel and in what order to make installation easier. John spends over 1 1/2 days doing the install, predominantly by himself although Tony and I help for a total of 1 hour each for the larger prints to position according to the mock up.
Phil 60 minutes – Toni 60 minutes – John 840 minutes – Total combined = 840 minutes
After all this the van is completed as per the mockup with only a few slight variations.
Now this is all completed what you see here are a total of 47 different layers/elements on this van.
Quite often people think that the total van wrap process should only be approximately 5 to 10 hours in total. However, once we break it down, you can see we spend a lot more time than people perceive we do and that sign companies who charge a higher than expected rate, are covering their costs.
The working man hours on this project is a combined total of 2740 minutes (45.66 hours)
For this client, we also drove two people to pick up the van and return the van. This required 2 staff each direction for a total of 25 minutes in each direction on 2 trips 200 minutes (3.33 hours)
The absolute total man hours on this project is 2740 minutes (49 hours)
The end result is one we are extremely happy with and hope this project gives an insight into how many hours it takes to make a clients vision come to life.